Episodes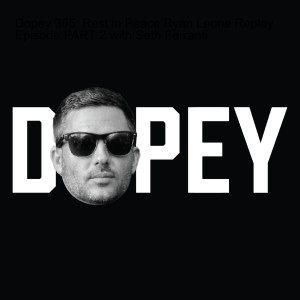 Thursday Jul 07, 2022
Thursday Jul 07, 2022
This week on Dopey! To honor and celebrate our friend, author and Dopey legend, Ryan Leone, we got one of his closest friends, and godfather to his first son, Seth Ferranti to share a bit about his friendship with Ryan. Then we replay his second appearance on Dopey
This was the original show description for this episode:
This week on Dopey! Hold on to your hats Dopey Nation! Ryan Leone comes back from the edge of oblivion, and thank God he has lived to tell the tail Starting with a gram of coke, Ryan winds up in full blown addiction battling his demons, and winding up completely addicted to fentanyl. It is a topsy turvy emotional roller coaster, with twists and turns you never could have seen coming. PLUS Howie's first proper episode on the Dopey Show, we read an email and talk dumb shit on a totally debauched LSD shooting, Ketamine infused, relapsing brand new episode of Dopey!
We are proud to be Sponsored by Sober Link! Check them out here They help keeping people off of alcohol through accountability! https://bitly.com/Soberlink
About Dopey:
Dopey Podcast is the world's greatest podcast on drugs, addiction and dumb shit. Chris and I were two IV heroin addicts who loved to talk about all the coke we smoked, snorted and shot, all the pills we ate, smoked, all the weed we smoked and ate, all the booze we consumed and all the consequences we suffered. After making the show for 2 and a half years, Chris tragically relapsed and died from a fentanyl overdose. Dopey continued on, at first to mourn the horrible loss of Chris, but then to continue our mission - which was at its core, to keep addicts and alcoholics company. Whether to laugh at our time in rehab, or cry at the worst missteps we made, Dopey tells the truth about drugs, addiction and recovery. We continually mine the universe for stories rife with debauchery and highlight serious drug taking and alcoholism We also examine different paths toward addiction recovery. We shine a light on harm reduction and medication assisted treatment. We talk with celebrities and nobodies and stockpile stories to be the greatest one stop shop podcast on all things drugs, addiction, recovery and comedy!
Comments
(1)
To leave or reply to comments, please download free Podbean or
RIP Ryan Leone May every1 never forget what Shaky Jake brought to his fanbase. Palabra